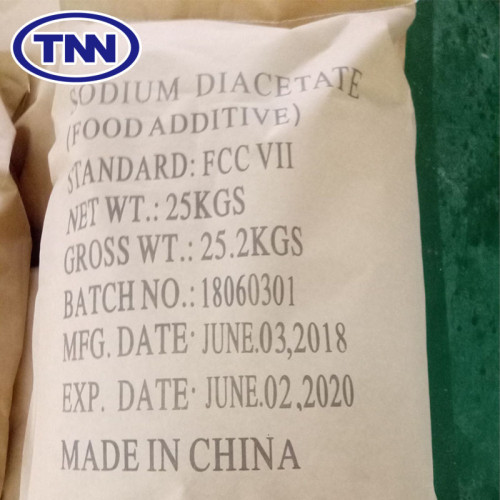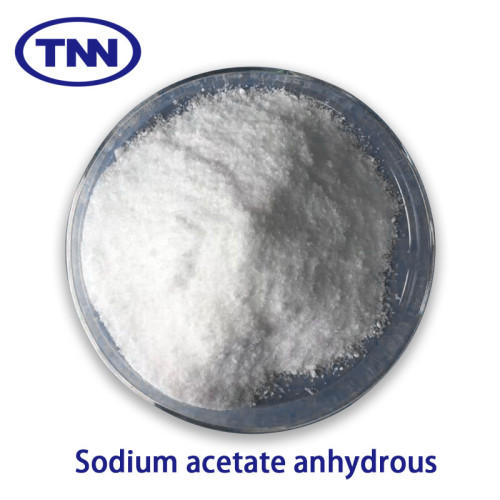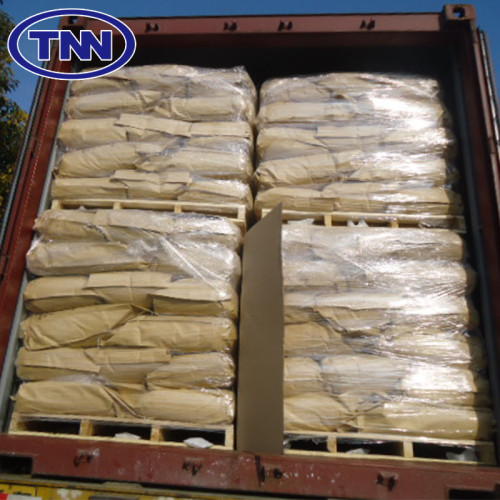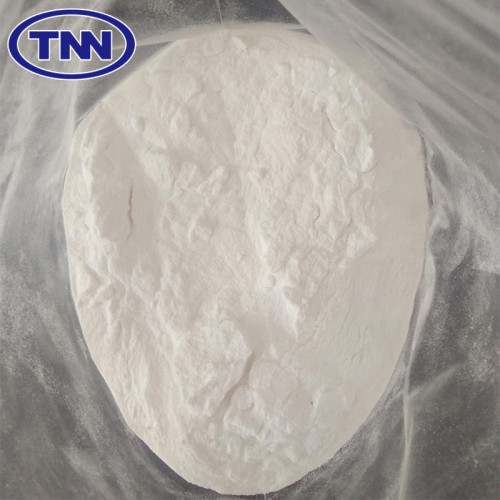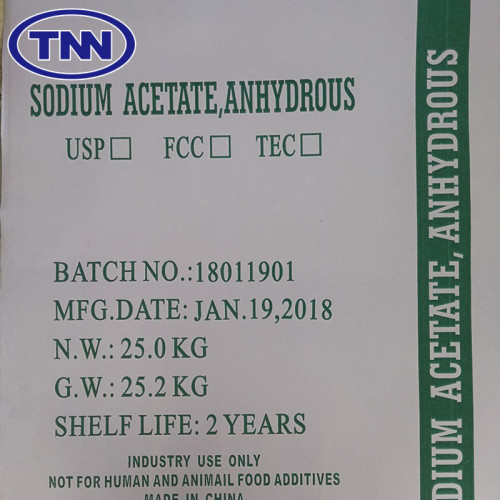 TNN | Sodium diacetate | grain preservative | preservative for rice flour| Sodium diacetate is known as food and feed preservative|China Wholesale Manufacturer
Item specifics
CAS No.:

126-96-5
Other Names:

Vita-crop, CROP - CURE, CRAINCURE
MF:

C2H4O2.C2H3O2.Na
EINECS No.:

204-814-9
FEMA No.:

3900
Place of Origin:

Jiangsu, China
Type:

Acidity Regulators, Flavoring Agents, Nutrition Enhancers,
Brand Name:

TNN
Model Number:

TNN-SDA
Color:

White Crystal
Odor:

Acetic acid odor
Solubility:

Easy to dissolve in water
Description
·Introduction:
Sodium diacetate is known as food and feed preservative, antimicrobial agent, acid flavor agent and modifier with stable properties and low price. Sodium diacetate has been designated as a safe substance by the FDA of the United States. Sodium diacetate has the functions of high-efficiency antifungal, antiseptic, fresh-keeping, improving palatability, increasing nutritional value and promoting growth. Sodium diacetate is now widely used in livestock and poultry feed.
Specification of sodium diacetate

Name of index

Specification

Test Result

Assay(Free acetic acid), %

39.0-41.0

40.23

Assay(Sodium acetate), %

58.0-60.0

59.48

Lead(Pb), ≤%

0.0002

<0.0002

Readily Oxidizable Substances, ≤%

0.2

<0.2

Water, ≤%

2.0

0.28

pH(10% water solution),

4.76

The product above complies with the standard of FCC-VII.
SODIUM DIACETATE; 126-96-5; Sodium Hydrogen Diacetate; Dykon; Acid Acetate; Acetic Acid Sodium Salt; Sodium Acid Acetate
Not to be confused with sodium acetoacetate, a salt of acetoacetic acid or diacetic acid.
Physical and Chemical Properties:
1. Sodium diacetate is an unprescribed ADI and is recognized by the FDA as GRAS.
2. Sodium diacetateis white crystal, with acetic acid odor, easy to absorb moisture, easy to dissolve in water, heated to 150℃ above decomposition, with flammability, in cool dry conditions stable property.
3. Sodium diacetate mainly depends on the decomposition of molecular acetic acid to play an antibacterial effect; SDA has a good inhibition of bacteria and mold.
Functions and features:
1. Sodium diacetate does not change the characteristics of food, is not affected by the food itself PH, participates in the metabolism of human body, produces CO2 and hydrogen peroxide, can be regarded as part of food, maintain the original color, fragrance and nutritional components of food.
2. Sodium diacetate is better than potassium sorbate in inhibiting fungi and has better anti-mildew and anti-corrosion effect than benzoates (sodium benzoate).
3. Sodium diacetate has a mild acidity and overcomes the irritating odor of propionates (calcium propionate).
·Packaging and Storage:
1. Sodium diacetate is packed in plastic inner bags, and woven bags/kraft bags are used for outer packing. The net weight is 25kg.
2. Storage in sealed, low temperature, moisture-proof, sunscreen environment, do not mix with other alkaline and toxic substances.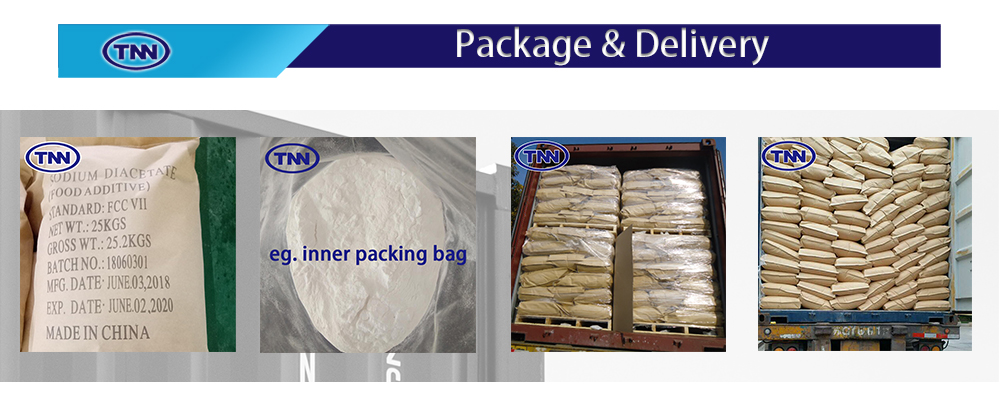 ·Application of Sodium diacetate in animal feeds:
1. Prevent feed mildew and prolong the storage period.
2. Improve the milk protein content of dairy cows and the utilization of protein in feed to increase the weight of fish and piglets.
3. Adding SDA to poultry feed can prevent pullorum and improve the survival rate of chickens.
4. Adding SDA to aquatic feed can effectively prevent and treat fish diseases caused by homologous microorganisms and can be used as clarifying disinfectant in fish ponds.
·Application of Sodium diacetate in foods:
As food preservative, sodium diacetate is safe, non-toxic, non-residual, non-carcinogenic and non-teratogenic, it has been recognized as "0" toxic substance by WHO.
Sodium diacetate is an ideal substitute for potassium sorbate, sodium benzoate, calcium propionate and other preservatives.
1- SDA is good anti - toxic effect in cereals and cereals.
2- SDA can be used in baking foods, such as bread, cakes, etc., to prevent mildew.
3- SDA is widely used in the flavoring of puffed food because of the function of preservative, sour agent and nutritive agent.
4-When used as a compound preservative (Polylysine 0.01%, chitosan 0.80%, sodium diacetate 0.30%, EDTA 0.01%) in chilled meats, SDA will greatly extend the shelf life.
5-Adding sodium diacetate into meat products, sausage and cured meat can prevent mildew, prolong the storage period and enhance the fresh and tender effect of meat products.
6- SDA can extend the shelf life of drinks, fruit juices, jams and jellies.
7-SDA can prevent or reduce bacterial contamination in process of making pickles.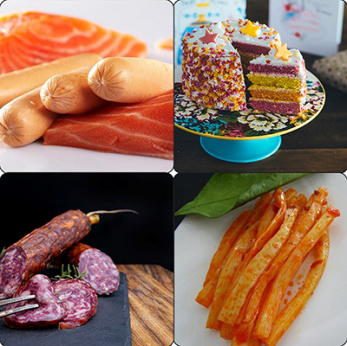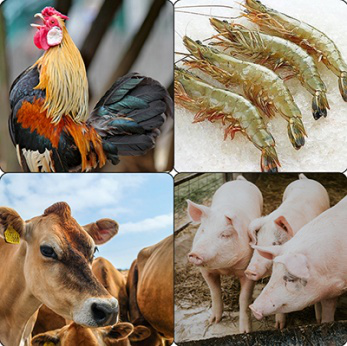 1. What's the package of SDA?
25kg kraft bag with PP inner.
2. How to get OEM package?
MOQ for OEM bag with customized logo and printing is FCL.
3. How many tons per container?
18 tons per 20"FCL with pallets.
21 tons per 20" FCL without pallets.
4. What's the leading time?
Leading time 15-20days after payment.
5. How to get sample?
Contact sales manager for 300g free sample, delivery charge collect paid.
6. Can sodium diacetate be used in food and feed?
Our SDA has food production license meet the FCC standard. It can be used in both foods and feeds.
7. How to compound SDA with other food preservatives?
Kindly consult our sales manager about the application suggestions.
OEM packing as customizer required based on MOQ FCL.
Flexible mix loading service.
Aboundant raw materials alternatively.
Timely after-sales service.
Small quantity shipping by LCL.
Sample test support, etc.
Kindly contact us if any questions!